You are here
Fun & fiesta galore at the most iconic German beer festival hosted by Bhartiya Mall of Bengaluru
Fun & fiesta galore at the most iconic German beer festival hosted by Bhartiya Mall of Bengaluru
Bengaluru's leading retail and entertainment destination, Bhartiya Mall of Bengaluru recently hosted the world's most iconic German beer festival, Oktoberfest at Bharatiya Mall of Bengaluru, Bharatiya City on September 17th and 18th. More than 55 thousand people participated in the event.
Powered by Geist, Oktoberfest festival started with keg tapping by Mr. Achim Burkart, German Consul General in the presence of Arjun Aggarwal, MD, Bhartiya Urban. The event in Munich was also live streamed at the same time.
Featuring a Carnival Street with a 20,000 sq ft German tent Oktoberfest also regaled the visitors with its authentic Bavarian food, Craft beer, German performers and German musicians along with a masterly Indian line up. The artists who performed at the event included Beat Gurus, Carlton Braganza & Friends, Ivan, Jasmeet, Raghu, and Zhane. It will also feature a dedicated kids' zone.
Bhartiya Mall of Bengaluru is one of the most popular retail, entertainment and rejuvenating destinations that actively celebrates life in all its hues. Designed to be a retail experiential mall, it has emerged as a choice place for retail therapy, dining, entertainment, fun & fiesta, and has over 150+ stores with a significantly high occupancy rate.
Speaking on behalf of Bhartiya Mall of Bengaluru, Mr S Raghunandhan said, "At Bhartiya Mall of Bengaluru we are committed to mingle shopping with pleasure. People visit this place not only to shop but also to spend quality time with their family and friends. Through Oktoberfest we have attempted to take experiential shopping at a whole new level and going by the footfall and the response of the people we can say that it has been a hugely successful. The event was a part of the authentic Oktoberfest held annually in Munich, Bavaria. We also want to promote community celebration and bring people closer to one another"
 Oktoberfest is one of the world's most popular beer festivals. It is held annually in Munich, Bavaria, Germany. More than six million international and national visitors attend the event. The Bhartiya Mall of Bengaluru edition of Oktoberfest provided the visitors with an opportunity to indulge in a good time with lots of good food and good beer along with authentic German entertainment, music fest, Oktoberfest tent, German food, and carnival zone.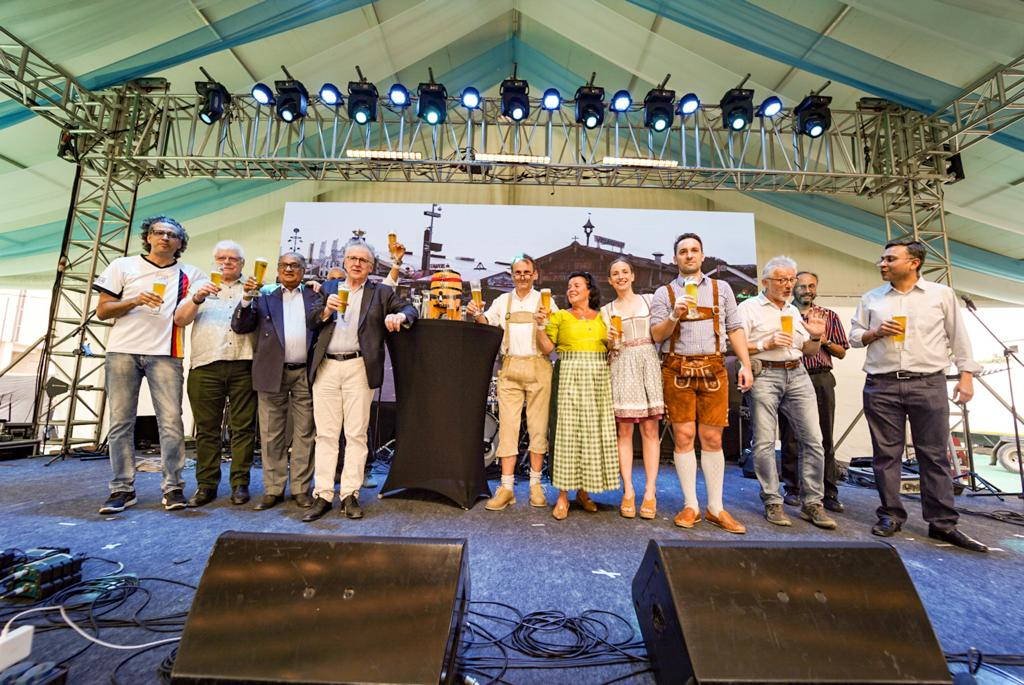 About Bhartiya Urban
Bhartiya Urban is the real estate vertical of India's leading conglomerate—the Bhartiya Group. In the highly dynamic and competitive sphere of real estate, Bhartiya Urban has been a constant name ever since its inception. Bhartiya Urban is currently developing Bhartiya City, which is the largest integrated township project.
 Bhartiya City is coming up with Bhartiya City Centre, which aims to expand the definition of shopping to make it an emotional experience with the help of intuitive technology and exceptional designs.
Innovation-led and future-focused, Bhartiya City has been a pioneering force behind the rapidly changing horizons of Southern India with developments across retail, residential, commercial, education and hospitality sectors. The company has carved out a niche as an industry benchmark for quality, customer focus, and unswerving commitment to offering exceptional amenities to patrons.